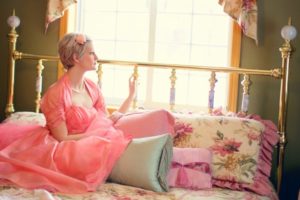 We were supposed to live there only temporarily, before we found something better.
The apartment in one of Prague's suburbs was far from an ideal one… An old sink, an electrical burner instead of a regular stove and linoleum from what must have been an ancient time.
We were young and madly in love. These "details" could not concern us. The brightest possible future was ahead us, I though to myself.
 WHY BOTHER?
Well, it wasn't…
We broke up less then 2 months after moving into our newly rented home.
I was left there by myself. Depressed and lonely, I decided there was no point in trying to decorate or improve my new place.
Happiness is out there, right?
What's the point of sitting at home, making it beautiful? 
Furniture stayed as it was when we moved in.
A queen bed was placed, for no reason, into the corner of the bedroom. Pushed to the side of the wall, under a window, it changed quietly from a couples' bed into a single's.  

An office desk, left there by an owner, stayed in the bedroom, too. I am clueless why it was in the bedroom, when there was enough space for it in the living room.
Old cactuses and other plants occupied one corner of the living room. Half dead, half alive, I kept them there out of respect to my landlord – to only find out after several years he didn't care about them at all.
Intuitively, I felt that:
It would be really good to replace the old wallpaper in the bedroom with new ones
Cover or beautify somehow the old heating radiator behind the bed
Replace all the worn out rugs with new ones.
"But why bother?" I thought to myself. I am here only temporarily.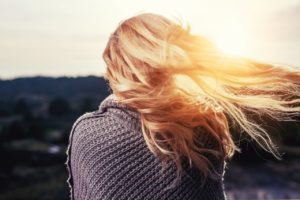 BUT LIFE IS NEVER TEMPORARY 
My romantic life didn't go well since then.
I was either single or meeting "wrong" men. My romantic relationships were, similar to my home, temporary. Nothing serious.
I started to solve my loneliness by spending extra time at work, including weekends. Piles of papers and accounting textbooks were mounting on the desk in the bedroom.
Contrary to my love life, I was successful at work.
Promotion after promotion, I was given more and more responsibility. The pressure for productivity was enormous.
But I had no place to hide from this pressure.
Even my own bedroom was full of work symbols:
a computer bag,
desk with work related papers, 
books,
calculator…
I started to feel exhausted all the time.
YOUR HOME AND LIFE ARE 2 SIDES OF A COIN
When I finally left this apartment, I was 30. I spent 6 years of my life in this not pretty, not cozy place.   
As a certified Feng Shui practitioner, I know today what I didn't know then. Our lives and our homes are like 2 sides of a coin.
Underestimating the power of the home doesn't usually pay-off.                                            
Certainly not in a long term.
That old apartment taught me a lot. In so many ways it didn't align with my life goals. And my bedroom was literally sabotaging them.
CHANGE YOUR BEDROOM – CHANGE YOUR LIFE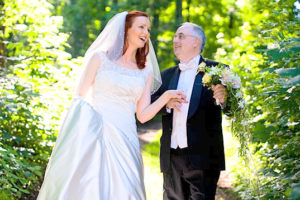 My story has a happy end 🙂 I did finally meet a wonderful man! But only after I had completely changed my bedroom.
I simply had to align it with my dreams of loving relationship, romance, happiness and joy.
Being happily married to my husband David for 7 years now, I am so glad I did!
How does your bedroom make you feel?  
What changes do you feel are needed to make it more respecting what your deepest dreams are?
Let me know! I would love to hear from you! Get in touch with me here.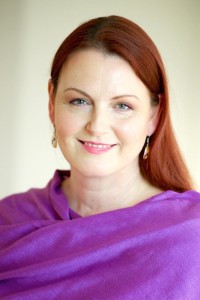 Blanka Vun Kannon is a Soul Coach and certified Feng Shui consultant who inspires others to create life & home they desire.
In her work, Blanka combines two groundbreaking systems – Soul Coaching® and Interior Alignment® Feng Shui.
In person or long-distance, she creates an empowering space for others to connect with their inner wisdom and intuitive ability of creating joy and happiness in everyday life. She is a founder of Škola Harmonie.
Read also:
How To Create An Empowering Home Office with Feng Shui
Mrs. YIN and Mr. YANG: A Key To Balance